Work with Wilson-Taylor Associates to engage key audiences through stories and statistics. We collaborate with companies and associations on:
Original research projects that make your organization the go-to source for data and insights.
Content strategy, from developing personas to writing content that real persons want to read.
White papers, articles and reports that build and expand your expertise.
Communication and media training so that you can confidently navigate media. interviews and win media coverage based on your expertise and experience.
And successful media outreach so that your message reaches the right audiences.
Career lattices are the fastest, most reliable way to grow your career and for companies to grow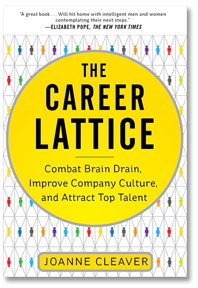 the talent they need to achieve tomorrow's goals. That's why I wrote about them for a whole book. Sign up now for The Career Lattice newsletter and have the latest, most useful, tips, tools, and training opportunities delivered right to your inbox. And, please join The Career Lattice on Facebook to swap lattice strategies with others who are achieving their goals through this powerful, flexible, career strategy that helps you achieve your career goals – through a staff position or self-employment.
The 2020 Accounting MOVE Project registration is now open! Sign up here.
Complete details, including benefits of participating, deadlines and administrative fees, are at the MOVE Project home page.
See results and media coverage of the 2019 Accounting MOVE Project, and hear all about it at the Accounting and Financial Women's Alliance annual conference in October, 2019.
The 2020  Accounting MOVE Project will open in late August.
The 2018 CPA Firm Diversity Report, sponsored by Grant Thornton
The only comprehensive diversity benchmark for CPA firms  is based on ongoing MOVE Project results from 2010 on. Read all about it: MOVE Forward 2018 CPA DiversityReport
And read the executive summary of MOVE Forward in the January 2019 issue of Public Accounting Report: PAR_01-19_Extra
Read all about how CPA firms are refreshing their perspectives on diversity in the process of advancing women with the latest strategies, in the 2018 Accounting MOVE Project Report .compressed .
Read the executive summary of the 2018 Accounting MOVE Project report, published in the May issue of Public Accounting Report:  PAR_05-18_Extra[1]
Our signature product: The MOVE Project – a unique research and advocacy model that helps employers understand how well they are doing in terms of advancing women and how they can do better.
Learn more about the MOVE Project and read prior reports at the Accounting MOVE Project homepage.
Check out the latest Wilson-Taylor projects and media coverage.