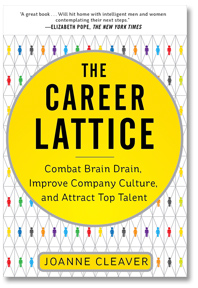 Associations for creatives, entrepreneurs, and midlife career shifters have all benefied from Joanne Cleaver's workshops on plotting a smooth, steady transition from a staff job to self-employment, based on the principles in  The Career Lattice. 
Lateral career paths keep individuals employed and companies growing. The Career Lattice is the essential guide to strategic lateral moves, showing through narratives and case studies how individuals and employers grow and thrive in a slow-growth economy.
New! Leading on the Lattice: A workshop that equips leaders to lead authentically in a latticed world when they rose up the career ladder. Download the one-page summary: Wilson-Taylor Professional Development Workshops.
The Career Lattice has good news for economic development officials, too! Lateral moves help bridge the skills gap, ensuring that people have jobs and that jobs have people.
Whether you are in your first job, juggling work and family, segueing to retirement, managing a team, developing talent, or running a big organization, you'll find insights and useful information in The Career Lattice.